Hotel Gharana is happy to welcome you !
At the heart of the Holy city of Gaya lies Hotel Gharana, conveniently located at a distance of just one kilometer from the Railway station and Walking distance from the Govt. Bus Stand. With well furnished rooms Hotel Gharana serves all segments of the industry. Rooms are well designed keeping in mind the needs of families as well as school and leisure groups.
Owing to the needs of the corporate customer the Hotel also offers conference and banquet facilities with modern day audio equipment. We also offer Pure Vegetarian Food and Beverage in our Restaurant and Room Service , serving all kinds of regional cuisines from North Indian, Mughlai, Chinese, South Indian, Gujarati and Jain.
Hotel Gharana, Gaya established in 2007, is a popular destination for overseas tourists and those escaping from India for a weekend break in the pilgrimage places for the Hindus and Buddhists. It is therefore advisable to make any soon reservations as soon as possible after making your decision to visit Gaya.
At Hotel Gharana, Gaya we pride ourselves in creating a special environment for all our guests, one in which you are able to relax and let yourselves be thoroughly pampered by our experienced and dedicated staff.
Gaya-Land of Lord Vishnu
Gaya derives its name from the mythological demon Gayasur (which literally means Gaya the demon), demon (asur, a Sanskrit word) and Gaya. Lord Vishnu killed Gayasur, the holy demon by using the pressure of his foot over him. View More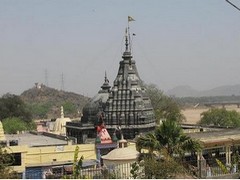 Bodh Gaya-Place of Enlightment
Bodh Gaya is very Popular Buddhist Centre in India. This is famous for the place of Gautama Buddha's being attainment. Bodh Gaya is the most important of the main four pilgrimage sites related to the life of Gautama Buddha. View More